History of the Foundation
Perry Stevens…
was born in Collingsworth County, Texas, in 1901, the son of Perry Stevens and Anna Campbell Stevens. Shortly after Perry's birth, his father died. Perry had one sister, Sue Stevens. Anna later married Ben Miller, and had two children, Beatrice and Ben, Jr. In 1914 the family purchased 2 sections of land in Yoakum County, Texas, and settled there. They all lived in a two-room house on the property. Now referred to as Yoakum County's "bonus shack" the structure was donated to the Tsa Mo Ga Club in Plains, Texas, and is maintained as the Tsa Mo Ga Memorial Museum.
After working on various ranches in north Texas and New Mexico, Perry left the state in 1920 for Arizona. He also lived in Oregon, California, and Florida. During that time he was a cowboy and a commercial fisherman. Later the first of many oil wells, the Annie Miller discovery well, was drilled in the early 1950's on their property in Yoakum County.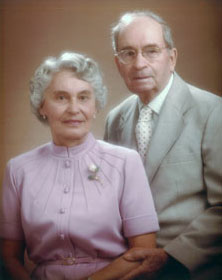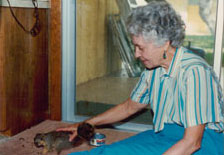 Ruby Timmerman Stevens…
was born in Burlington, Iowa in 1916 and had seven brothers and two sisters. She was an excellent seamstress and enjoyed many crafts such as knitting and crocheting. She won many awards for her crafts during her lifetime.
Perry married Ruby Timmerman at Fort Pierce, Florida in 1959. They later settled in Fredericksburg, Texas.
For many years Perry and Ruby toured the country in a Cortez motor coach visiting various national parks and monuments. They also sailed the seas in their sailboat, many times with Ruby at the wheel or the helm.
Both thoroughly enjoyed nature's gifts like watching and feeding deer and squirrels around the house. In fact, one squirrel grew to trust Perry and Ruby so much that she would enter their front door around 10:00 a.m. each day, "chatter" a bit, then select a pecan half from a tuna can offered to her before exiting out the door.
Quiet and generous philanthropists, Perry and Ruby contributed to many, many projects which benefited Hill Country communities. Although never having children, their primary interest was to support organizations that cared for abused and neglected youth.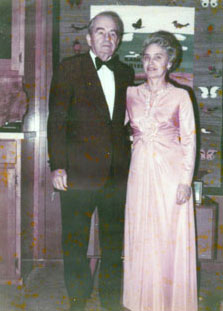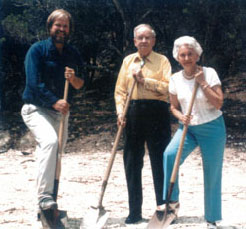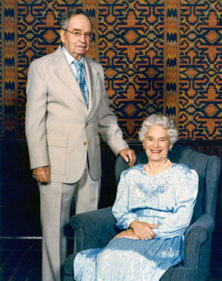 Perry Stevens lived to be 100 and Ruby lived to be 96 years old. They both enjoyed full and healthy lives. Perry knew that he wanted to leave a legacy through a Foundation but it was Ruby who, with the help of future trustees, Phillip Milton and Allan Paterson, established the Perry and Ruby Stevens Charitable Foundation in January 2006. This was four years after Perry's death in January 2002. Over the years its assets have grown and with the passing of Ruby Stevens in October 2012 the remainder of their estate has been transferred to their Foundation.